Alexis Exum
---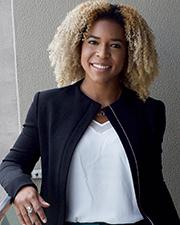 Biography
—
Faculty Advisor: Dr. Tera Fazzino
Research Lab: Health Behavior and Technology Lab
Research Interests: Substance use and weight disorders in racial/ethnic and sexual minority populations. Specifically, food addiction, binge-eating, and obesogenic behaviors among adolescents and young adults.
Education
—
B.A. in Psychology, Virginia Commonwealth University, 2014
M.P.S Professional Studies, University of Maryland, 2016
M.A. in Psychology, University of Kansas, 2020
Selected Publications
—
Poster Presentations:
Exum, A. C., Perko, V. L., and Forbush, K. T. (2019, March). Predictors of short-term weight trajectories in a community sample of adults with eating disorders. Poster session presented at the 2019 Academy of Eating Disorders International Conference on Eating Disorders, New York, NY.
Exum, A. C., Forbush, K. T., and Templin, J. (2018, October). Stuck in the middle again: A latent trait analysis using dsm-5 eating disorder criteria in a community sample. Poster session presented at 2018 XXIVth Annual Meeting of the Eating Disorders Research Society, Sydney, AUS.
Exum, A. C., Hahn, S. E., Carney, D., Hettema, J., Roberson-Nay, R. (2014, April). Behavioral inhibition and anxiety in juveniles. Poster session presented at the 2014 Poster Symposium for Undergraduate Research and Creativity, Richmond, VA.
Awards & Honors
—
David Schulman Award, 2020
Don Hutchings Memorial Award, 2020
One of Ten Ford Foundation Fellowship Program PreDoctoral Honorable Mentions, 2018
University of Kansas, Clinical Psychology Diversity Scholar Fellow, 2017