Melissa Van Veldhuizen
---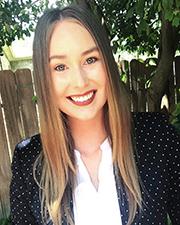 Biography
—
Advisor: Dr. Rick Ingram
Research Lab: Ingram Lab
Research Interests: My research interest is the etiology, maintenance, and effective treatment of depression and other mood disorders in adults. I am also interested in anxiety disorders and their frequent comorbidity with depression. 
Education
—
B.S. in Psychology, Iowa State University, 2017
M.A. in Psychology, University of Kansas, 2021
Selected Publications
—
Van Veldhuizen, M., Ingram, R. (2019, October). Attachment and Bonding as Unique Predictors of Depression.
     Presented at Proseminar at the University of Kansas, Lawrence, Kansas.
Balderas, J., Van Veldhuizen, M., Ingram, R., Kohnle, K., & Fulton, J. (2019, August). Adult
     attachment and parental bonding: Unique associations with depression frequency and severity. Presented at the
     meeting of the American Psychological Association, Chicago, IL.​
Fulton, J., Ingram, R., Balderas, J., Kohnle, K., Van Veldhuizen, M.  (August 2019). Care control and cognition:
     An examination of the depressive symptoms and parenting. Presented at the 172nd Annual Meeting of the
     American Psychological Association, Chicago, IL​