Hailey Taylor
---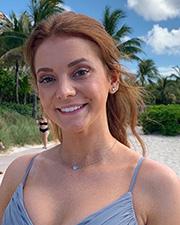 Biography
—
Advisor: Dr. Richard Yi
Research Lab: Cofrin Logan Center for Addiction Research and Treatment
Research Interests: I am interested in studying delay discounting and addiction. In addition, I am interested in examining mental health in relation to public policy and violence against women, specifically domestic violence and sexual assault.
Education
—
B.A. in Psychology and Criminology, West Virginia University, 2017
M.P.S. Clinical Psychology, University of Maryland, 2018
M.A. in Psychology, University of Kansas, 2021
Selected Publications
—
Collado, A., Felton, J. W., Taylor, H., Eure, A., Doran, K., & Yi, R. (2019). Conscientiousness explains the link between childhood neglect and cigarette smoking in adults from a low-income, urban area - the differential effects of sex. Child abuse and neglect.
Doran, K., Collado, A., Taylor, H., Felton, J.W., Tormohlen, K., & Yi, R. (in press). Methods to optimize recruitment, participation, and retention among vulnerable individuals participating in a longitudinal clinical trial. Research and Theory for Nursing Practice.
Collado, A., Felton, J. W., Taylor, H., Doran, K., & Yi, R. (2020). The indirect effects of trait anxiety on drug use via emotion dysregulation in a low-income sample. Substance Use & Misuse, 55(8), 1320-1326.
Selected Presentations
—
Taylor, H., Pritschmann, R., Yurasek, A.M., & Yi, R. (2020, April). Associations between drug use/consequences and cross-commodity delay discounting among young adult users of alcohol or cannabis. Virtual poster presentation at the Collaborative Perspectives on Addiction (CPA) 2020 Conference Program. doi: 10.17605/OSF.IO/XGY9K 
Taylor, H., Collado, A., Felton, J., & Yi, R. (2019, October). Associations between environmental reward and cigarette use among low-income smokers: Outcomes in a behavioral activation trial. Poster presentation at the Mid-American Association for Behavior Analysis (MABA) Conference 2019, Omaha, NE
 
Taylor, H., Eure, A., Alford, C., Collado, A., Felton, J., & Yi, R. (2018, November). The associations between parental mental illness, emotion dysregulation, and problematic substance use in a low-income sample. Poster presentation at the International Society for Traumatic Stress Studies 34th Annual Meeting, Washington, DC