Jordan Cortesi
---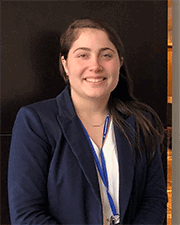 Biography
—
Advisor: Dr. Monica Biernat 
Research Lab: Biernat Lab, Cultural Psychology Research Group (CPRG)
I am a third year Ph.D. student in the Social Psychology program at KU. Some questions I'm interested in are: How do stereotypes, prejudice, and implicit bias affect the expectations we have and the attributions we make about others? What role does sterotypes and prejudice play in reinforcing intergroup power dynamics and social status? How does being a member of a stigmatized identity or sterotyped group affect the individual?
Education
—
B.S. in Psychology, University of Iowa, 2019
Research
—
My research interests center around racism/racial inequality and intergroup relations. I am particularly interested in what social cognitive processes, beliefs, and ideologies underlie the maintenance, legitimization, and reproduction of the racial hierarchy as well as the identity politics that may be intertwined with those systems . My current projects include perceptions of racial inequality, colorblind racism, and hierarchy legitimizing ideologies.