Mark Landau
---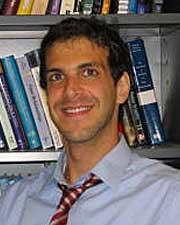 Professor
***Admitting Students for the Fall 2024 Semester***
Contact Info
Fraser Hall, Room 445
Lawrence

---
Biography
—
Mark J. Landau is a Professor at the University of Kansas. He received his doctorate from the University of Arizona in 2007. Dr. Landau has published many articles and chapters on metaphor's influence on social cognition and the role of existential motives in diverse aspects of social behavior. He has been funded by the National Science Foundation and the National Institute of Mental Health.
Education
—
Ph.D. in Psychology, University of Arizona
M.A. in Psychology, University of Colorado
B.A. in Psychology, Skidmore College
Research
—
Our lab's research interests center on two questions with relevance to social and cognitive psychology. One addresses the cognitive mechanisms through which people make meaningful sense of themselves and their social world. Using conceptual metaphor theory as a framework, we investigate how people use metaphors at a conceptual level to understand abstract concepts (e.g., authenticity) in terms of dissimilar, relatively more concrete concepts (e.g., physical expansion). Several published findings to date point to metaphoric influences on self-perceptions, consumer decision making, and health intentions, among other outcomes. Findings also reveal effects of theoretically-specified moderating and mediating variables.
The second major question addresses the psychological roots of human motivation. Inspired by perspectives in experimental existential psychology, particularly terror management theory and attachment theory, we investigate how deep-seated existential concerns fuel people's efforts to project meaning onto the social stimuli and their personal experiences. Findings to date demonstrate the integral role of existential concerns in various aspects of social behavior, from person perception to academic achievement.
Selected Publications
—
Landau, M. J., Arndt, J. & Cameron, L. D. (2018). Do metaphors in health messages work? Exploring emotional and cognitive factors. Journal of Experimental Social Psychology, 74, 135-149.
Baldwin, M. Landau, M. J., & Swanson, T. J. (2018). Metaphors can give life meaning. Self and Identity, 17, 163-193.
Landau, M. J. (2017). Conceptual metaphor in social psychology: The poetics of everyday life. , Routledge.
Awards & Honors
—
Winner, Outstanding Presentation Award at the Research Symposium of the KU Center for Undergraduate Research (Theisen & Landau, 2017).
KU Center for Undergraduate Research
2017 - Present
Recipient, 2017 American Psychological Association (APA) Distinguished Scientific Award for Early Career Contribution to Psychology (a.k.a. APA Early Career Award).
American Psychological Association
2016 - Present
Grants & Other Funded Activity
—
Landau, Mark J., (Principal), Cognitive and emotional processes of metaphoric cancer communications., R01 CA185378, NIH / National Cancer Institute (R01), (01/01/2014 - 12/31/2018) . Federal. Status: Funded.