Niva Manchanda
---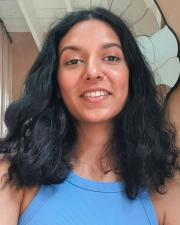 She/her/hers
Biography
—
Advisor: Dr. Omri Gillath
Research Lab: Gillath Lab
Research Interests: I am interested in studying interpersonal relationships - particularly friendships and romantic relationships - and the related behaviors within these contexts that promote an individual's overall well-being.
Education
—
B.S. in Psychology (Hons.), University of California, Riverside, 2021, California
Research
—
I am further involved in researching how people perceive AI and how subsequent interactions with an AI stimulation affect their relationship formation with the AI.
Memberships
—
The National Academic Honor Society of Phi Beta Kappa (PBK), 2021-present