Olivia Tasheuras
---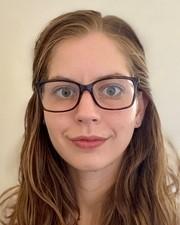 Biography
—
Advisor: Dr. Rick Ingram
Research Lab: Cognitive-Clinical Lab
Research Interests: I'm interested in decision-making processes of justice-involved youth. Specifically, how delay of gratification and impulsivity characteristics may relate to these processes and risk-taking behaviors. I'm interested in studying how these factors evolve as dynamic factors, and how they relate to recidivism. I'm also interested how they may be used to inform assessment and intervention development, particularly risk assessment.
Education
—
B.A. in Psychology, Univesity of Maryland, 2014
M.S. in Clinical Psychology, Loyola University, Maryland, 2017
Selected Publications
—
Tasheuras, O. N. (2019). Fostering Resiliency and Preventing Re-victimization: A Proposed Social Learning Theory Intervention for Adult Survivors of Childhood Sexual Abuse. Crisis, Stress, and Human Resilience: An International Journal,1(1), 21-27. Retrieved May 6, 2019.
Hamilton, K. R., Felton, J. W., Gonçalves, S. F., Tasheuras, O. N., Yoon, M., & Lejuez, C. W. (2019). Trait impulsivity during early adolescence predicts steepness of alcohol use escalation across adolescence. Addictive Behaviors,98, 106017.
doi:10.1016/j.addbeh.2019.06.006
Hamilton, K. R., Smith, J. F., Gonçalves, S. F., Nketia, J. A., Tasheuras, O. N., Yoon, M., . . . Shackman, A. J. (2020). Striatal bases of temporal discounting in early adolescents. Neuropsychologia, 144, 107492. doi:10.1016/j.neuropsychologia.2020.107492