RaLynn C. Schmalzried
---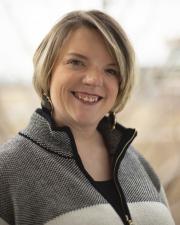 Assistant Teaching Professor
She/Her/Hers
Contact Info
Fraser Hall, Room 521
Lawrence

Regnier Hall, Room 370N
Edwards

---
Biography
—
I've been interested in breaking down the negative perceptions of the aging process in much of my research and professional work.  So many people fear growing old and part of that is recognizing that changes are inevitable but not knowing fully what to expect.  The aging experience can vary widely and US society has a lot of misconceptions about what it means to age.  One theory that my work on rumination supported is Cartensen's Socioemotional Selectivity Theory, (Carstensen, 1999)- which suggests that the perception of time left in life changes how we pursue goals, activities and relationships.  Thus, individuals tend to  become more positive with age, even when sensory and cognitive abilities decline.     
My other current area of research interest aligns with the Classroom to Career class that I've designed and regularly teach.  News outlets have regularly reported on the so-called skills gap of recent college graduates not having the skills employers are looking for.  I want to make sure what I do in my classes and research can help minimize or reduce this gap.  Organizations like NACE (National Association of Colleges and Employers) and AACU release data on these competencies that can be useful to help inform and direct research and teaching in this area.   Examining this problem has a variety of facets I'm interested in – (1) looking for differences in how individuals (students, employers, managers, etc.) perceive or measure skills,  (2) helping college students understand and talk about those skills, (3) places where our own biases and experiences may alter how we perceive job-related skills, and (4) how I can design classes to help students see the transferable skills they are getting from the content and how they can relate to the workforce.
Education
—
Ph.D. in Cognitive Psychology, Gerontology focus, University of Kansas, 2012
M.A. in Psychology, University of Kansas, 2007
B.A. in Psychology & English Creative Writing, Baker University, 2005
Research
—
Cognitive Aging (Rumination, Multi-tasking, Ageism) and interests in professional development and career readiness in college undergraduates. 
Teaching
—
Courses Taught:  Classroom to Career, Cognitive Psychology, Psychology of Aging, Lifespan Human Development, Cognitive Neuroscience