Rebecca Kurnellas
---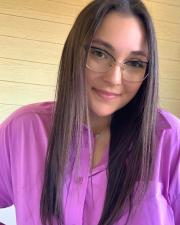 Biography
—
Advisor: Dr. Richard Yi
Research Lab: Behavioral Health Research Group, Cofrin Logan Center for Addiction Research and Treatment
Rebecca Kurnellas is a doctoral student in KU's Clinical Psychology program and a member of the Behavioral Health Research Group. Specifically, she is interested in applying behavioral economic mechanisms to inform resource allocation and public policy.
Education
—
B.A. in Psychology, The College of New Jersey, 2022
Research
—
Her research interests include decision-making and health risk behavior within the context of substance use.
Selected Publications
—
Kurnellas, R., Ward, R. M., Taylor, E., Martinetti, M. P. (2023). Alcohol demand in college students: The roles of athletic involvement and gender. Clinical and Experimental Psychopharmacology. DOI: 10.1037/pha0000681